It was a simple weekend. We took a road trip to Georgia to see lights. We meandered our way there. We stopped by the Resale Store they have in the Penny Farms Retirement Community. Now Penney Farms is just the cutest town slash retirement community. The store had very cheap ornaments. I found 3 for a mere 45 cents. Those retirees have some great deals. We saw 2 projection screens. I didn't have enough money for either one, but would love to go back. Plus we overheard they were having an estate sale across the street next week. I can't wait to check it out.
For those who haven't heard of Penney Farms, it is the cutest retirement community. It was established by J.C. Penney as an experimental farming village. The stock market crash caused Penney to scale back his community and made it for retired ministers in honor of his minister father. I like to drive by the community. The houses are lovely and the residents ride around in golf carts.
http://www.penneyretirementcommunity.org/
Memorial Church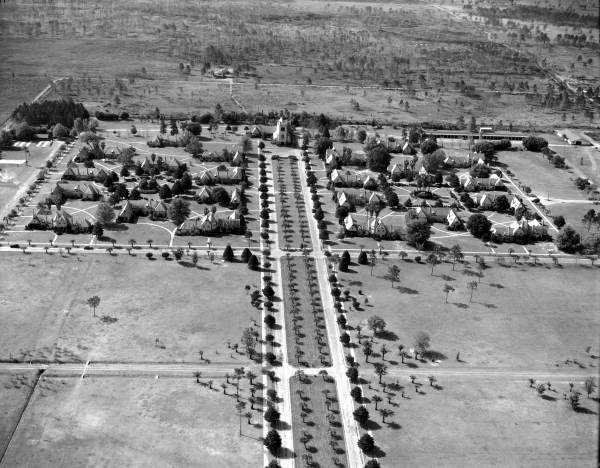 Aerial photo of Penney Farms in 1947-1948
I coned the husband into stopping at a thrift store. We found a stereo/tape/8 track player. The price was right. We bought it so I can play my 8 tracks at the house. I wouldn't recommend the One Stop Thrift Store in Jacksonville, FL as most of their prices were high. I dare not say what they charged for an 8 track tape that I usually find for 50 cents or a dollar at most.
On the way north we found a few more thrifts. I found the one in St Mary, GA quite interesting. We didn't buy anything, but the lady was friendly and they had all sorts of things. Plenty of furniture. i can't remember the name of the store. The lady said it used to be an auction house. I even tried to Google it and found nothing close on the map.
Okay, I tapped into the husband's memory and he remembered country barn was in the name. I found Kim's Country Barn online.
http://www.kimscountrybarn.com/
We also checked out the Salvation Army and Goodwill. Not much there. The husband found poker chips. I kept telling the husband that it was about the journey and not the destination. I was just happy to go on a road trip and experience for lights.