Saturday, January 26, 2013
The other weekend we used a coupon for MOSH - the Museum of Science and History in Jacksonville. The husband has never been there and it has been a while for me.
Ends up it was a Lego competition and the place was packed. The brain slices should be my christmas gift.
I think I see brains
Brains!
I love stuff in jars
We kept going through the displays backwards. I feel like the signs were not clear.
Space Man
Love this kitchen
We learned more about Norman Studios
http://www.normanstudios.org/
Tiny hands
Sunday, January 13, 2013
Finally at 10 followers! Welcome aboard Holly! Thanks for the follow back.
Since I don't anticipate many hitting up this giveaway I plan on using the "throw names into a hat" method of deciding a winner from all the posts left on this post.
And the winner will receive a package including the objects below:
Yes, an odd combination of items that are a bit of me...
Slaughterhouse Five, two old ornaments, Jim Croce 8 track, MOSH book mark, an old car, some ball thingy and a Nader pin from my collection.
They could be yours if you comment on this post to enter
. All entries by 10 pm EST on Friday 1/18/12 will be thrown in a hat - most likely camp since that is, mainly what the husband has.
Good luck!
Sunday, January 6, 2013
I have been holding steady at 9 followers for a long time. I was so excited when I gained followers. Now I am thinking about how more would be even better. I follow so many blogs. I may rarely comment, but I read regularly. I see that there are far more readers to this blog than my first blog. I didn't even have followers on that blog. I have come a long way.
So I am looking for follower number 10. When I reach 10 followers I will have a giveaway. Giveaways seem to get people all stirred up :)
Now just to figure out what to give. I better start thinking. That 10th person could pop up at any time.
A while back I suggested the husband get a deal from Living Social for a racing simulator. The catch was, it was in Orlando. We maybe go there once a year. I figured we would do that and check out some other stuff. The deal was about to expire so we had to go this weekend. Bad choice.
Orlando + the holidays = worse than normal.
We started out mid morning. It takes a couple hours to get there from where we live. We went the non-highway route. We stopped at a couple small thrifts along the way. I found a truck bank. We resisted the games.
We finally got to the sports bar that the simulator was at it was after noon. The husband was disappointed when the simulator was a fancy chair with a steering wheel. The monitor was big. The bar was in an extremely yuppie area. We were quite under dressed with jeans and t-shirts. We got out of there quick.
We ended up eating at an Ale House. Then we found a couple more thrifts. One Goodwill was going out of business. That was depressing. The other Goodwill was packed. The line was almost to the other side of the store to check out. It moved quickly. I was buying one book - The Shack. A coworker had suggested it years back. Some of the guys in my group have talked about it. At $1 I couldn't pass it up.
Then we went to the Husband's favorite store in Orlando - Bass Pro Shop )BPS). He got a Bass Pro Shop camo hat since he lost his last one. He also bought a bunch of the fishing hooks he puts on the bill of all his hats. The man is obsessed with hats. He is especially obsessed with camo hats. He says the hooks are just in case. I have never known him to use one. They are his signature style. He is more of "fashion" plate than I am.
When I found out how much these hooks cost and thought about how many hats the Husband has I told him he needs to buy them in bulk. There has to be somewhere online he can find them.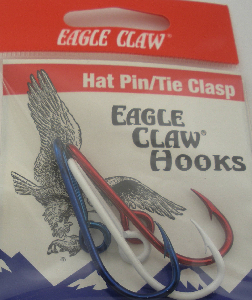 By the time we got out of BPS it was dark. We took the long drive home and crashed. I felt disappointed that the trip wasn't more successful. We had money put aside to find items for resale and found nothing. None of the thrift stores were impressive. The traffic was killer. We had fun wandering around and getting away from home. We have a Groupon for miniature golf that doesn't expire until May. That means another Orlando trip. Maybe I can figure out where to find good thrifts and a good place to eat. I did find out that there is a Converse outlet there. There were far too many people to go this weekend. I definitely want to check it out on the next trip. The St Augustine outlet hasn't yielded any Chuck Taylor Hi Tops in a while.
The other half of the weekend involved stocking up on groceries and buying the wood for the second bedroom's shelf. I have been so excited about this shelf. The one shelf around the whole room is to be the savior of our storage needs in the room. I had two tall shelves and 3 wall shelves in there. I am so tired of those large shelves. I have had them for over 10 years. I figure all the cars from the shelves and the board games from the master closet will fit on the shelf. We are talking about a lower shelf on the short wall for the smaller cars.
I think it will all come together. I am not one for design. The Husband tends to know more about pulling things together. He is much more creative than he will admit. I have already changed my mind about the curtain I had in that room. I need something longer to cover up the window AC.
I am excited about getting things organized and situated on New Years. The husband is working so I have the time and boredom to get it done. After the shelf is loaded up I can organize the items on the floor. Then its onto the closet full of the Husband's tools etc.