This has been an interesting week. Well, many of my weeks are interesting since I am easily amused. But this week we got a new arrival earlier than expected.
We had planned to pick up my husband's nephew on our way back from where he has been staying for the last few years in North Carolina. Since his sister decided last minute to come visit she brought him down. So a month early we had a boy. Okay, a 23 year old adult, but it is still a big change to our household. See, it has been my husband and I along with the cats and dogs ever since we have been together. We both had offered our niece and nephew a place to live. Finally someone took us up on the offer.
I thought I had another month to clean out the second bedroom. We had to quickly clean out most of the bedroom and second bathroom. The husband was in charge of the bathroom since he has been using it as a shed and later as his hair grooming area since we moved in 2 years ago. He took it upon himself to put some peel and stick tile we had found a deal on in the bathroom. Then he finished cleaning out the shower that still had some shed items in. Then he scrubbed the whole bathroom. I was quite proud of him. Therefore I was in charge of finding places to put the stuff that was taking over the bedroom. I put what I could in the closet. The nephew says he doesn't even hang up clothes and only came with limited belongings so he didn't need a closet. Good things since I can't put the things in the closet into the actual shed.
I put some stuff in our bedroom closet. It is getting full in there. I put a couple things in the shed and the dining room. Now all that is left in the second bedroom are shelves filled with toys and cars. The nephew has requested that they are put up to. I know, he is so high maintenance. I told him I would clear them out when I get storage containers for them. Maybe if I could sell some more of my books I can put them on those shelves.
The nephew also asked for a door. The room has never had a door. We did put up a curtain. I can understand him wanting an actual door since the dogs find it entertaining to wake sleeping humans. They get me every weekend. If I move or breath or they think it is around 7 am they start to bark and fuss. We can easily do a door. We found a bi fold door at the flea market to cover up the AC unit by the laundry room. That was a good $5 deal. I figure we can measure and then find something at the flea market or maybe the restore that would work.

So the nephew is here and moved into the room. Of course my first thought was feeding him. I have it covered for me and the husband to eat until the next payday but now we have another mouth. He has been cooperative so far. Ends up he doesn't like pork chops and the husband isn't big on chicken, so there may be some chicken and pork chop combo days. I am the least picky. Thank goodness the husband and nephew both like peanut butter and cereal. I may need a cow for all the milk they will go through. It's times like these that I miss the husband being a milkman.
So I got over my concerns about the room and bathroom. Still in need of organizing though. Then the door and the room definitely needs paint (which the husband has gotten on the marked down shelf). It also need flooring (which we have and need to put down. Plus this is a pay week so I can get more food for the boys. Remember, I am the easy one who eats left overs and soup all week at work.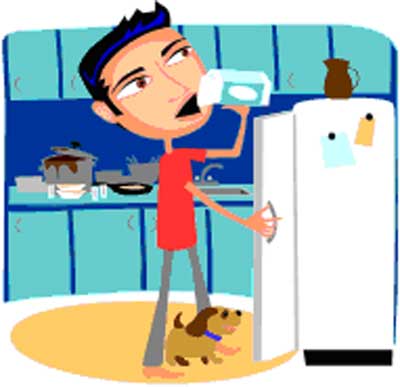 The husband had the serious talk with the nephew about what his plans are. He wants to get a job as soon as he can. He has to get his license. He wants to go back to school. He knows he has to clean up after himself, etc etc. The husband is happy to have him here. Like I am with my oldest niece, the husband feels like his nephew should have been his kid. It think its awful sweet. The husband is so great with kids (and animals). He spent a ton of time with his niece and nephew while they were growing up.
So even with my trepidations with having someone else in the house (I am a little funny about my home, but who isn't), I like the nephew and we get along. Plus people took me in at his age and gave me a roof over my head so I could go own to have my own home. We still would love for my oldest niece to come here too. We just don't have the room. I told the husband we need to start adding on rooms. I think at least 3 would work - 2 bedrooms and a pantry/storage room. I'm still working on having my own children one of these days.