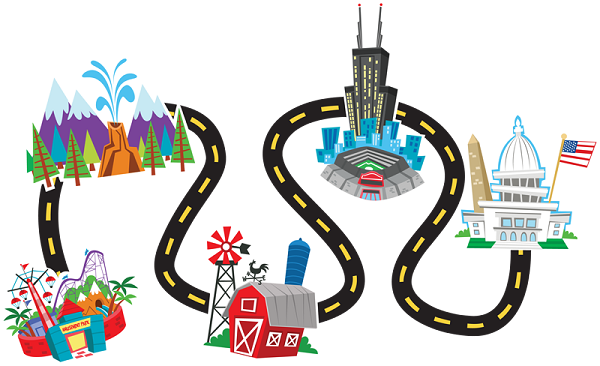 It feels like forever since our June cross country vacation. I have been working non-stop since then and it will not let up until the next vacation. Therefore I must start thinking about what to do and see on our October vacation.
I have an old friend/ex roommate who lives in Indiana. I have never been there. She wanted us to visit since we reconnected last year. She wants to move back to Florida, but it's tough to sell a house. Then a visit is meant to be.
The husband would love if the vacation was timed around a NASCAR race, but no such luck. Maybe another time. We picked the end of October for our next vacation since we have a bunch of local stuff we wanted to do earlier in the month.
I put a lot of time in finding places to see before our last trip, plus figuring out which was to travel. The museum hours helped decide the route. The husband likes to not have a plan. I like to have some ideas or else what if we end up bored. My friend will have stuff for us to do. But when she is working I want to have options. My friend has always been a excellent tour guide whereever she has lived - Baltimore, New Orleans...
The main issue with a Florida to Indiana trip is the to and from trip that is estimated at 14 hours. Since we only have a week of vacation we want to make the trips there and back in one day. Ugh. I hate long drives. Fortunately the husband drives most of it. As I age I tend to fall asleep in the car more and more. He loves to pick on me about this.
Looking at possible places of interest is always fun. I know nothing about Indiana. I already found some automobile museums and a couple jail museums. I have fascinations with work and the husband likes anything on wheels. I know I will find some cool thrift stores to check out. I am excited about seeing actual fall trees and the cool weather. Plus hanging out with my friend and her husband will be cool. The husband has only been around her 3 times. She can tell him stories that I don't even remember.
Yesterday my Indiana friend was texting about the trip. She lived up to her reputation by already having some ideas. One of them is Waverly Hills Sanitarium. I have a fascination with buildings, ghosts and mental health. This would be the trifecta. Waverly Hills was already a place I wanted to see. My friend is not a fan of scary things. She is willing to do a Halloween night tour. I hope it does not disappoint.
I told her about the Indiana Medical History Museum. I am not sure where my fascination with strange medical stuff comes from. I work at a location where people are mainly receiving medical treatment, although I am not a medical professional. I see all sorts of things. Years back I went to The Bodies exhibit. I couldn't eat turkey legs for a while after seeing all those human tendons and what looked like turkey meat.
BRAINS!